THE COURSE WILL START IN APRIL

PRESENTATION:
Este título universitario, es el programa más completo para convertirse en un Director de Sala contemporáneo.
Domina los productos y técnicas de servicio, adquiere conocimientos en psicología, gestión de equipos, experiencia de cliente, tecnología de la sala, comunicación y herramientas de venta.
Todas las claves para convertirte en un Director de Sala contemporáneo con este título experto universitario.
Dirige la sala con confianza, optimizando los procesos y aportando valor al negocio y los clientes
Un programa intensivo, con Máster Class de referentes en sala y profesores expertos en las materias del programa de estudios, visitas de aprendizaje y proyecto fin de curso tutorizado.
Diploma de Experto Universitario en Dirección de Sala y Atención al cliente.
AIMED TO
• Titulados en Dirección de servicios de restauración, hostelería u otras disciplinas relacionadas.
• Profesionales de la sala como maîtres o jefes de sala y gerentes de restaurantes, que quieren evolucionar profesionalmente.
Se requiere experiencia previa como personal de sala y servicio en el restaurante de al menos 2 años.
PROGRAMME
10 ECTS.
El programa consta de 6 módulos + proyecto fin de curso
• 1. El papel de la sala en el restaurante contemporáneo
• 2. Psicología y habilidades de comunicación aplicada a la sala
• 3. Diseño de servicios, experiencias y sensorialidad en la sala
• 4. Herramientas de gestión: mejorando la gestión integral de la sala
• 5. Los productos en el restaurante: inmersión en la cultura del vino, cerveza, cafés y coctelería y otros productos
• 6. La tecnología en la sala, una aproximación a la era digital
Para más información sobre el Plan de Estudios actual descárgate el Programa:
OBJECTIVES
• Adquirir conocimientos avanzados sobre el funcionamiento de la sala, técnicas de servicio y el servicio de distintos tipos de restaurante y sobre diferentes tipos de servicio
• Desarrollar habilidades en psicología del cliente, interno y externo; así como técnicas de comunicación verbal y no-verbal dirigidas al incremento de las ventas del establecimiento y a la gestión de equipos.
• Conocer las principales herramientas de diseño de servicios y diseño de experiencias para la consecución de objetivos: calidad del servicio, satisfacción y fidelización de clientes.
• Adquirir conocimientos avanzados sobre cervezas, cafés, coctelería, quesos y corte de jamón, vino y maridajes con distintos productos para poder asesorar y satisfacer las necesidades de los clientes.
• Conocer las principales herramientas tecnológicas que se emplean en los servicios de sala modernos, así como buenas prácticas en el uso de las redes sociales.
• Adquirir habilidades en gestión orientadas a la optimización de procesos, satisfacción del cliente y al aumento de la rentabilidad del punto de venta.
DURATION: 10 ECTS.
COUSE PERIOD: From 8th April to 24th June 2019
TIMETABLE: Mondays nd 6 tuesdays from 9:15h to 18:30h.
Nº OF PLACES: 20
ENROLMENT: Registration opened until all places are filled.
En Basque Culinary Center apostamos por una metodología de aprendizaje basada en learning by doing por lo que podrás poner en práctica los conceptos aprendidos durante el curso.
El proceso de enseñanza-aprendizaje se basa en los siguientes conceptos metodológicos:
Sesiones presenciales
• Exposición teórica de temas previstos para la sesión.
• Análisis y reflexión participada de cada tema y ejercicios prácticos de aplicación a la sala y el servicio.
• Recaps y puesta en común de actividades de aprendizaje no presenciales de proyecto.
• Visitas de aprendizaje para conocer buenas prácticas.
• Sesiones de cata de vinos y maridajes, tiraje de cervezas, la ejecución del café perfecto, coctelería, etc.
Máster Class de profesionales de referencia del sector y de otras disciplinas relacionadas con el programa de estudios. Experiencias reales e inspiradoras.
Visita de aprendizaje: Visita a una bodega para ampliar el conocimiento sobre este producto.
Proyecto fin de curso: a lo largo del curso se trabajará en la creación de un manual de sala para un establecimiento en el que se incorporarán los conocimientos adquiridos. El proyecto estará tutorizado por expertos.
Prácticas extracurriculares: los/las estudiantes que lo deseen podrán completar la formación compaginando el curso con prácticas extracurriculares durante la impartición del curso.
El equipo docente estará compuesto por:
Coordinador del curso Experto Universitario
Profesores del área de sala del Basque Culinary Center.
Profesores expertos en las diferentes áreas de conocimiento del programa:
• F&B y gestión de la restauración.
• Seguridad laboral, seguridad alimentaria y sostenibilidad.
• Expertos en producto: enólogos, sumilleres bartenders, etc.
• Expertos en inteligencia emocional, psicología, gestión de equipos y liderazgo.
• Customer Experience Managers, diseñadores de interiores y vajilla, sensorialidad.
Master Class de invitados de referencia del sector profesional: Maîtres y sumilleres de reconocido prestigio y de expertos en otras disciplinas.
Equipo de tutores de proyecto fin de curso.
The total fees for the programme are €2,500 which must be paid as follows
• €150 at the time of applying for a place (refundable in full in the case of not being admitted).
• 40% of the total, that is €940 as a reservation fee payable at the time of confirmation of admission.
• The remainder of the fees, €1,410 two weeks prior to the start of the programme.
This price includes:
• Teaching material
• Uniform
• Study visits
Assistance with Accomodation
The students' information office of the faculty will provide the necessary information and will assist students with their search for accommodation and shared flats.
MATRÍCULA ABIERTA · COMIENZO EN ABRIL 2019.
The Basque Culinary Centre has a system of admissions that aims to ensure that our students have the academic level and personal competences required to complete the study plan successfully.
1 Pre-registraion:
Students wishing to be considered must send the following either by e-mail or by ordinary post:
•
The completed application form.
•
Documentation to be attached to the application.
•
Registration fee (fully refundable in refundable in full in the case of not being admitted). This fee is 150 euros.
2 Period for applications:
The period for application will remain open until all places have been allocated. The maximum number of students to be admitted is 20. Applicants will be notified of the outcome of their application within a period of one month.
For any further enquiries regarding course requirements or the admission process, please do not hesitate to contact us on cursos@bculinary.com

DESCRIPTION OF THE RESIDENCE
New residence opened in the academic year 2017/2018.

Located just a step away from the Basque Culinary Center and with excellent downtown connections, the residence has 73 well-equipped studios designed for those who desire luxury student living. All rooms feature the latest trends in interior design and technology and include double beds, flat screen TVs, modern furniture, in-room kitchenettes, private bathrooms, and outward facing views. The facilities are also equipped with a fitness center, meeting and study rooms, a large shared kitchen space for culinary practices, as well as a community living area where residents can socialize and relax.

Some of the amenities include:

Weekly jacket cleaning
Weekly room cleaning
High-speed wireless internet
Heating, air conditioning, and basic utilities included
Laundry facilities with washers and dryers
Concierge services and 24-hour surveillance
Preferential fees will apply to BCC students
More information at
www.numadstudios.com
OTHER ACCOMMODATION OPTIONS
---
RELIGIOUS RESIDENCES
These types of residence are small and have restricted entrance times. The rooms can be single or double and they do not always have an ensuite bathroom. Those that offer full board may not offer all the meals at weekends. Admission to these residences entails a personal interview with the families.
The prices given below are approximate.
FEMALE RESIDENCES:
RESIDENCIA COMPAÑÍA DE MARÍA
Camino de S. Bartolomé, 24
Tel 943 464795
Regime pensión completa
Approximate price 625€/mes

ESCLAVAS DEL SAGRADO CORAZÓN
Avda. Gral. Zumalakarregi, 11
Tel 943 210800
Regime pensión completa
Approximate price 580-615€/mes
Las residentes tienen que desalojar la residencia durante los fines de semana salvo en época de exámenes.
MISIONERAS DEL SAGRADO CORAZÓN
Paseo de la Fe, 34
Tel 943 456072
Regime pensión completa
Approximate price 350-490€/mes

RESIDENCIA VILLA ALAIDI E.A.M.
Paseo de Heriz, 95
Tel 943 210866
Regime media pensión o pensión completa
Approximate price desde 450€ hasta 590€/mes
No se ofrecen comidas durante el fin de semana aunque hay una cocina a disposición de las residentes.
RESIDENCIA EL CARMELO PASIÓN
Ilumbe, 8
Tel 943 456600
Regime pensión completa
Approximate price 540€-605€/mes

COLEGIO MAYOR JAIZKIBEL
C/ Aldapeta, 49
Tel 616 369 815
Regime pensión completa
Approximate price 932€/mes
No hay cocinas disponibles para las residentes pero las estudiantes de BCC podrán realizar prácticas de cocina.
RESIDENCIA CET ORIA
Paseo de Ayete, 25
Tel 943 242400
Regime pensión completa
Approximate price 370€
El precio del alojamiento y pensión se costea trabajando en el servicio de alimentación. Admisión mediante entrevista.
MALE RESIDENCES:
COLEGIO MAYOR AYETE
Pº Ayete, 25
Tel 943 21000
Regime pensión completa
Approximate price 1.055€/mes

RESIDENCIA LA SALLE
Pº Maddalen Jauregiberri,2
Tel 943 454400
Regime habitación y desayuno
Approximate price 320€-380€/mes

---
SECULAR RESIDENCES
These are mixed and are larger than the religious residences. As a general rule, they do not have entrance times.
MIXED RESIDENCES:
COLEGIO MAYOR OLARAIN
Pº Ondarreta, 24
Tel 943 003300
Regime alojamiento y desayuno, media pensión o pensión completa
Approximate price desde 498€ hasta 1.090€/mes
El precio incluye la limpieza del uniforme de cocina. No hay cocinas disponibles para los residentes aunque los estudiantes de BCC podrán hacer prácticas de cocina en un espacio debidamente equipado para ello.
RESIDENCIA MANUEL AGUD QUEROL
Pº Berio, 9
Tel 943 563000
Regime alojamiento
Approximate price desde 403€ hasta 690€/mes
Residencia de la Universidad de País Vasco; alojan prioritariamente a los estudiantes de la UPV pero pueden tener plazas disponibles desde la reciente ampliación.
---
ACCOMMODATION IN SHARED FLATS
Prior authorisation from interested parties, the BCC Students'Office favours contact among admitted students so that they can organise themselves to share flats. Traditionally, students have created groups in social media to contact each other. The BCC also informs students about rented flat offers that the owners send us.
The average price per student in a shared flat in Donostia-San Sebastian is around €300 per month.
---
TRÁMITES PREVIOS AL VIAJE A ESPAÑA
Visado de larga duración
Este visado habilita para residir, residir y trabajar, estudiar o investigar en España. Todos los extranjeros que deseen entrar en España para residir, residir y trabajar o estudiar necesitan contar con un visado de este tipo, a menos que se trate de ciudadanos de la Unión Europea, Islandia, Liechtenstein, Noruega o Suiza.
La solicitud de visado de larga duración debe presentarse mediante un impreso de solicitud debidamente cumplimentado (original y copia), que puede descargarse gratuitamente de este enlace "Impreso de solicitud" puede ser obtenido también gratuitamente en las Misiones Diplomáticas u Oficinas Consulares de España en el extranjero.
Los documentos que por norma general habrá que presentar en la embajada para la gestión del visado serán:
Facilitados por Basque Culinary Center

Certificado de matrícula firmado y sellado por BCC
Programa formativo sellado por BCC
Calendario académico sellado por BCC

A facilitar por el alumno
Seguro médico
Certificado de alojamiento en San Sebastián
*Los documentos requeridos en cada uno de los países son diferentes. Consultar las diferentes embajadas y consulados: AQUÍ
Más información sobre el proceso de petición del visado.
TRÁMITES NECESARIOS A REALIZAR EN ESPAÑA
Los alumnos internacionales nada más llegar a San Sebastián deben de gestionar los siguientes documentos:
NIE
La solicitud del NIE (Número de identidad de extranjero) tiene como objetivo otorgar un número de identidad de extranjeros a los efectos de identificación necesario para poder residir en España.
Nº de la Seguridad Social
Este nº permitirá al alumnado poder ser dado de alta en la Instituto Nacional de la Seguridad Social a la hora de realizar prácticas académicas o trabajar.
Más información sobre el proceso solicitud de estos documentos.
---
Through the MU Sports Service, students can access team sports as well as individual sporting activities and Group trips (weekend skiing, surfing trips….).
Donostia-San Sebastian also has an extensive offer of municipal sporting facilities. The Kirol Txartela (sport card) permits access to all the city's municipal facilities at a very economical price. For more information, go to the following link.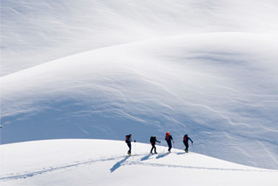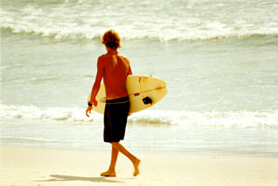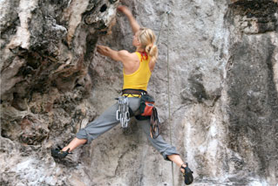 ---
A continuación se presentan algunos datos que reflejan el COSTE DE VIDA en Donostia - San Sebastián:
Entretenimiento
Transporte
La mejor manera de desplazarse por la ciudad es mediante su red de autobuses urbanos. Las empresas que prestan este servicio son la Compañía del Tranvía de Donostia-San Sebastián y LurraldeBus.
En www.dbus.es y www.lurraldebus.eus/es ofrecen información completa sobre rutas, horarios y tarifas. La web también ofrece la posibilidad de calcular la ruta en autobús entre dos puntos y la duración estimada del trayecto.
Este servicio público de autobuses cuenta con la opción de crear una tarjeta individual para asi beneficiarte de bonos de transporte mensuales que abaratan los costes. Más información en www.mugi.eus/index.php/es/
Cesta de la compra
---
Donostia-San Sebastian is the administrative capital of Gipuzkoa, one of the territories that integrates the Basque Country. There are two official languages: Spanish and Basque.
On the banks of the Bay of Biscay,,
Donostia-San Sebastián
is a small town within a natural framework of incomparable beauty. A holiday destination for monarchs and nobles during the Belle Epoque, Donostia-San Sebastian arose as a lordly city where tradition and modernity exist side by side.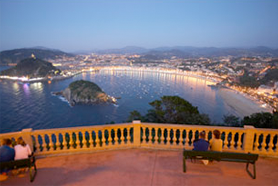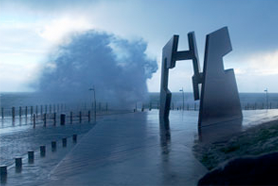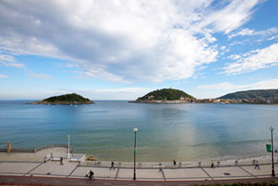 Images courtesy of San Sebastian Tourism
If there is something that can compete with its spectacular beauty that is its gastronomy: cradle of the "new Basque cuisine", Mecca of culinary avant-garde and the world capital of the pintxo, Donostia-San Sebastian is the city with the most Michelin stars per square metres in the world. The importance of its restaurants, its famous gastronomic societies and the quality of its raw material convert Donostia-San Sebastian into a gastronomic reference in the world. Not in vain, the British magazine, "Which", chose Donostia-San Sebastian as the best gastronomic destination in the world.
Over the last few years, innovation and sustainability have been the two main pillars for the development of Donostia-San Sebastian, which has fostered an ideal city of pedestrians and bicycles.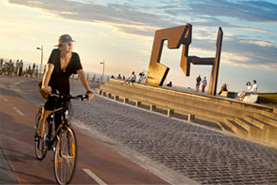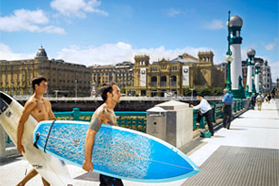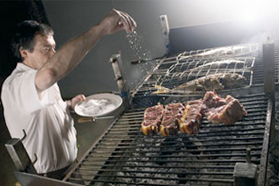 Images courtesy of San Sebastian Tourism
WHY STUDY GASTRONOMY IN DONOSTIA-SAN SEBASTIAN?
Because in Donostia-San Sebastian, as in the rest of the Basque Country, gastronomy forms part of society and good food is present at any event and celebration. Donostia-San Sebastian, a city of 185,000 inhabitants, has 120 gastronomic societies.
Because four of the eight restaurants with three Michelin stars in Spain are in the Basque Country, three of them in Donostia-San Sebastian.
Because of its cultural offer, which includes internationally renowned film and jazz festivals. Donostia-San Sebastian has been named as European Capital of Culture for 2016.
Due to its beaches, ideal for practicing surf all year round.
Due to its mountains, just 2.5 hours from the Pyrenees.
Because it is a safe, accessible and welcoming city.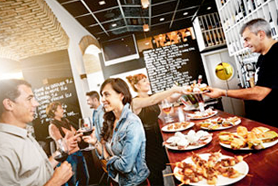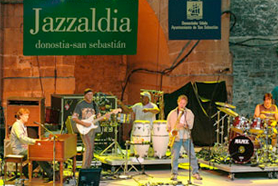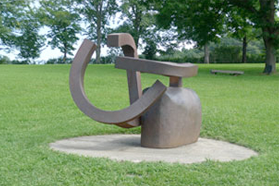 Images courtesy of San Sebastian Tourism
HOW TO REACH DONOSTIA-SAN SEBASTIAN
Donostia-San Sebastian is connected to the main Spanish cities by bus, train and plane.
The airport of Donostia-San Sebastian is 20 kilometres from the city. It is a small airport with direct flights from Madrid and Barcelona. It has a bus service to the city centre.
The international airport of Bilbao is one hour from Donostia-San Sebastian, and it is connected to the city with a frequent bus service from the actual airport.
The international airport of Biarritz is 45 minutes away although it only offers a direct bus to Donostia-San Sebastian once a day.
DISTANCE IN KMS.
Bilbao – 99 km
Biarritz – 50 km
Madrid – 450 km
Barcelona – 570 km

Images courtesy of San Sebastian Tourism
---
---
During their study years, BCC students will have access to the BCC Student APP. Through this APP students will be informed about grants and scholarships, job opportunities, extracurricular learning opportunities, events, invitations to exclusive Master Classes... They will also be informed on student discounts, BCC Cafeteria or Restaurant reservations, transportation, etc.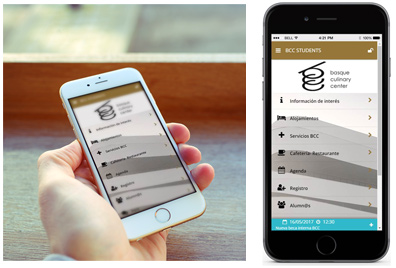 ---