NEXT EDITION WILL START IN MAY 2023
A course designed to learn how to create desserts or make new versions of great classics of sweet cooking. Learn the techniques and basic formulation for the preparation of mousses, crunchy, ice cream, biscuits, etc ... The importance of the concept and the guiding thread in the desserts within the tasting menu.
Face-to-face format
Dates: May to June 2024
18 places available
Registration will open in December 2023
More information and queries: cursos@bculinary.com
Throughout 5 weeks you will learn to create your own elaborations both on a conceptual level and on a technical level by the teachers of the Basque Culinary Center.
AIMED TO
This programme of specialisation is aimed at professionals in the sector, with formal training and/or previous work experience in the field.
PROGRAM
Module 1: Review of essential pastry preparations
Whipped doughs, pastes and bases.
Creamy and foamy textures.
Chocolate tempering
Module 2: Basic formulation
Ice cream and its raw materials.
Module 3: Creative processes focused on restaurant desserts.
Creative methods and sweet trends.
Module 4: Basic contemporary techniques. Fundamentals and applications
Foams: with fat base, gelatin, starch, albumen, hot and cold.
Airs: with alcohol, chocolate, fats.
Thickeners and gelling agents: pectins, gelatine, agar-agar, iota.
New products: obulato, liquid nitrogen, maltodextrin.
Module 5: Development of a sweet menu
At the end of the course, each group, composed of 3 - 4 students, will prepare a restaurant dessert menu consisting of 5 passes, which will be defended before a professional jury.
CALENDAR: From 2nd May to 2nd June 2023
SCHEDULE: Monday to Friday from 03:30 p.m. to 08:30 p.m.
NUMBER OF PLACES: 18 students
REGISTRATION: The period for application is opened in December 2022 until all places have been allocated.
The course is structured in 5 weeks, with a percentage of theory and practice distributed in this way: 25% theory - 75% practice.
The first week, the student will adquire the theoretical bases:
• Functional ingredients
• Dish architecture
• The bases of the formulation
• Creativity
• The concept
• New tendencies

The next 3 weeks students will work by groups in the development of a sweet menu every week.

Mondays will be inspiring and a visiting professor will give a workshop based on concepts of creativity, descontextutalization, etc.
The rest of the week the students will work on the development of sweet menus, according to marked guidelines: Snacks, predesserts, restaurant desserts, petit fours ...
In the last week a small project will be developed and feedback will be received on works and projects carried out.
Before each session we will work on knowledge activation. At the end of the course a Basque Culinary Center Diploma will be awarded.
The programme benefits from an academic team made up of:
Expert teachers of the Basque Culinary Center.
Cesar Romero
Course coordinator
Professor of the Master in restaurant pastry and sweet cooking. Counselor of pastry and restaurant desserts.
The fees for the full programme are €2.970 which must be paid as follows:
• €150 at the time of applying for a place (refundable in full in the case of not being admitted).
• 40% of the fees, that is, €1128 when acceptance has been confirmed, to reserve the place on the course.
• 60% of the fees, that is, €1692 two weeks prior to the start of the programme.
This includes:
• Teaching materials
• Uniform
• Study visits
Options for discount
Refundable (partly) through the Fundación Tripartita.
Assistance for Accomodation
The students' information office of the faculty will provide the necessary information and will assist students with their search for accommodation and shared flats.
The Basque Culinary Centre has a system of admission that aims to ensure that our students have the academic level and personal competences required to successfully complete an innovative and demanding study plan.
1 Pre-registration
Students wishing to be considered must send the following by e-mail (
admisiones@bculinary.com
):
•
A copy of the Curriculum Vitae
•
One passport size photo
•
Photocopy of national ID or passport
•
Applicant's personal statement in support of their application
2 Period for applications
The period for application will remain open until all places have been allocated. The maximum number of students to be admitted is 18.
Applicants will be notified of the outcome of their application within a period of one month.

LIVENSA LIVING SAN SEBASTIÁN, AN INNOVATIVE CONCEPT OF LODGING
Livensa Living San Sebastian is located in the neighborhood of Ibaeta, in a quiet area and a step away from Tolosa Avenue that leads to Ondarreta beach. It is an accommodation that takes care of all the details and is designed to make you feel at home during your stay in Donostia-San Sebastian. It has spaces to relax and share time in company.

Features to highlight:

Single rooms with full kitchen and private bathroom
Laundry
Gym
Common kitchens or "txokos".
Leisure areas: living room, games room, cinema room, etc.
Music rehearsal rooms
Co-working spaces
Private parking
Take advantage of the preferential rates for Basque Culinary Center students.
More information about accommodation
here
OTHER ACCOMMODATION OPTIONS
---
RELIGIOUS RESIDENCES
These types of residence are small and have restricted entrance times. The rooms can be single or double and they do not always have an ensuite bathroom. Those that offer full board may not offer all the meals at weekends. Admission to these residences entails a personal interview with the families.
The prices given below are approximate.
FEMALE RESIDENCES:
RESIDENCIA COMPAÑÍA DE MARÍA
Camino de S. Bartolomé, 24
Tel 943 464795
Regimen full board
Precio aproximado €625/month

ESCLAVAS DEL SAGRADO CORAZÓN
Avda. Gral. Zumalakarregi, 11
Tel 943 210800
Regimen full board
Precio aproximado €580-€615/month
Residents must leave the residence at weekends with the exception of examination periods.
MISIONERAS DEL SAGRADO CORAZÓN
Paseo de la Fe, 34
Tel 943 456072
Regimen full board
Precio aproximado €350-€490

RESIDENCIA VILLA ALAIDI E.A.M.
Paseo de Heriz, 95
Tel 943 210866
Regimen half board or full board
Precio aproximado from €450 to €590/month
No se ofrecen comidas durante el fin de semana aunque hay una cocina a disposición de las residentes.
RESIDENCIA EL CARMELO PASIÓN
Ilumbe, 8
Tel 943 456600
Regimen full board
Precio aproximado €540-€605/month

COLEGIO MAYOR JAIZKIBEL
C/ Aldapeta, 49
Tel 616 369 815
Regimen Pensión completa
Precio aproximado 932€/mes
No hay cocinas disponibles para las residentes pero las estudiantes de BCC podrán realizar prácticas de cocina.
RESIDENCIA CET ORIA
Paseo de Ayete, 25
Tel 943 242400
Regimen pensión completa
Precio aproximado 370€
El precio del alojamiento y pensión se costea trabajando en el servicio de alimentación. Admisión mediante entrevista.
MALE RESIDENCES:
COLEGIO MAYOR AYETE
Pº Ayete, 25
Tel 943 21000
Regimen Pensión Completa
Precio aproximado 1.055€/mes

RESIDENCIA LA SALLE
Pº Maddalen Jauregiberri,2
Tel 943 454400
Regimen habitación y desayuno
Precio aproximado 320€-380€/mes

---
SECULAR RESIDENCES
These are mixed and are larger than the religious residences. As a general rule, they do not have entrance times.
MIXED RESIDENCES:
NUMAD STUDIOS
Paseo de Miramón, 162
Tel (+34) 943 56 91 28
Regimen acommodation in studio with fully furnished kitchen and private bathroom
Precio aproximado desde 600€ hasta 880€/mes
A tan solo un paso de Basque Culinary Center. Instalaciones equipadas con un amplio espacio de cocina dedicado a prácticas culinarias, salas de estudio, gimnasio y zona lounge para socializar con otros residentes.
COLEGIO MAYOR OLARAIN
Pº Ondarreta, 24
Tel 943 003300
Regimen alojamiento y desayuno, media pensión o pensión completa
Precio aproximado desde 498€ hasta 1.090€/mes
El precio incluye la limpieza del uniforme de cocina. No hay cocinas disponibles para los residentes aunque los estudiantes de BCC podrán hacer prácticas de cocina en un espacio debidamente equipado para ello.
RESIDENCIA MANUEL AGUD QUEROL
Pº Berio, 9
Tel 943 563000
Regimen alojamiento
Precio aproximado desde 403€ hasta 690€/mes
Residencia de la Universidad de País Vasco; alojan prioritariamente a los estudiantes de la UPV pero pueden tener plazas disponibles desde la reciente ampliación.
---
ACCOMMODATION IN SHARED FLATS
Prior authorisation from interested parties, the BCC Students'Office favours contact among admitted students so that they can organise themselves to share flats. Traditionally, students have created groups in social media to contact each other. The BCC also informs students about rented flat offers that the owners send us.
The average price per student in a shared flat in Donostia-San Sebastian is around €300 per month.
---
Students from European Union member countries, Norway, Switzerland. Liechtenstein and Iceland will not require a visa to reside in Spain.

Other international students will have to request a long-term student visa which will allow them to reside in Spain for a period longer than 180 days.
Visas should be requested from, and issued by the Diplomatic Missions and Spanish Consul Offices abroad. It is important to obtain information on the required documentation and gather it as soon as possible, since the relevant authorities may take up to two months to notify that visas will be granted.
Once students have arrived in Donostia-San Sebastian, they have one month from the time of their arrival to request the foreign students' card at the Foreign Residents Office in Donostia-San Sebastian. The students' office of the BCC will provide the necessary information to students in this matter.
---
Through the MU Sports Service, students can access team sports as well as individual sporting activities and Group trips (weekend skiing, surfing trips….).
Donostia-San Sebastian also has an extensive offer of municipal sporting facilities. The Kirol Txartela (sport card) permits access to all the city's municipal facilities at a very economical price. For more information, go to the following link.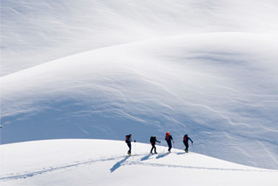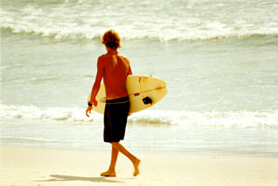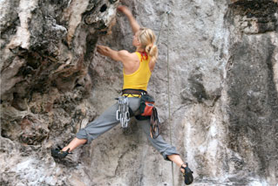 ---
Information on the COST OF LIVING in San Sebastian is given below:
Entertainment
Transport
The best way to move around the city is with the network of urban buses. The company which provides this service is Compañia del Tranvia de Donostia-San Sebastian.
Their web page www.dbus.es contains all information on routes, timetables and tariffs. The web page also enables the calculation of the bus route between two points and its estimated duration.
Students can benefit from monthly season tickets which reduce the cost of travelling by bus.
Shopping Basket
Accommodation
Donostia-San Sebastian offers accommodation in student residences. It is advisable that those interested in this type of accommodation make their reservation as soon as possible.
A document containing information on some of the residences in the city can be found below.
Download: Accommodation in San Sebastian
---
Donostia-San Sebastian is the administrative capital of Gipuzkoa, one of the territories that integrates the Basque Country. There are two official languages: Spanish and Basque.
On the banks of the Bay of Biscay,,
Donostia-San Sebastián
is a small town within a natural framework of incomparable beauty. A holiday destination for monarchs and nobles during the Belle Epoque, Donostia-San Sebastian arose as a lordly city where tradition and modernity exist side by side.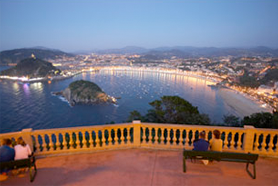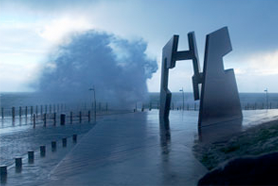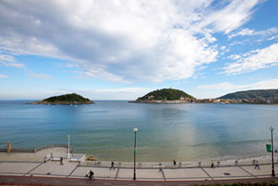 Images courtesy of San Sebastian Tourism
If there is something that can compete with its spectacular beauty that is its gastronomy: cradle of the "new Basque cuisine", Mecca of culinary avant-garde and the world capital of the pintxo, Donostia-San Sebastian is the city with the most Michelin stars per square metres in the world. The importance of its restaurants, its famous gastronomic societies and the quality of its raw material convert Donostia-San Sebastian into a gastronomic reference in the world. Not in vain, the British magazine, "Which", chose Donostia-San Sebastian as the best gastronomic destination in the world.
Over the last few years, innovation and sustainability have been the two main pillars for the development of Donostia-San Sebastian, which has fostered an ideal city of pedestrians and bicycles.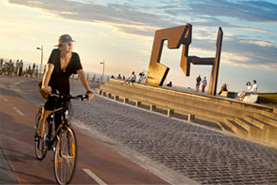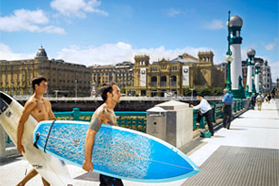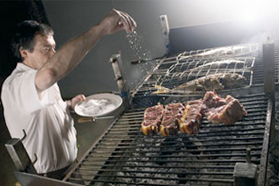 Images courtesy of San Sebastian Tourism
WHY STUDY GASTRONOMY IN DONOSTIA-SAN SEBASTIAN?
Because in Donostia-San Sebastian, as in the rest of the Basque Country, gastronomy forms part of society and good food is present at any event and celebration. Donostia-San Sebastian, a city of 185,000 inhabitants, has 120 gastronomic societies.
Because four of the eight restaurants with three Michelin stars in Spain are in the Basque Country, three of them in Donostia-San Sebastian.
Because of its cultural offer, which includes internationally renowned film and jazz festivals. Donostia-San Sebastian has been named as European Capital of Culture for 2016.
Due to its beaches, ideal for practicing surf all year round.
Due to its mountains, just 2.5 hours from the Pyrenees.
Because it is a safe, accessible and welcoming city.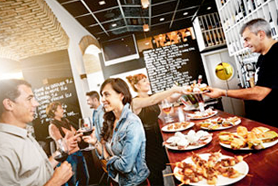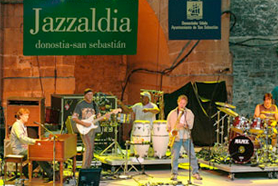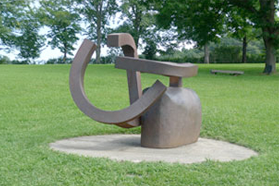 Images courtesy of San Sebastian Tourism
HOW TO REACH DONOSTIA-SAN SEBASTIAN
Donostia-San Sebastian is connected to the main Spanish cities by bus, train and plane.
The airport of Donostia-San Sebastian is 20 kilometres from the city. It is a small airport with direct flights from Madrid and Barcelona. It has a bus service to the city centre.
The international airport of Bilbao is one hour from Donostia-San Sebastian, and it is connected to the city with a frequent bus service from the actual airport.
The international airport of Biarritz is 45 minutes away although it only offers a direct bus to Donostia-San Sebastian once a day.
DISTANCE IN KMS.
Bilbao – 99 km
Biarritz – 50 km
Madrid – 450 km
Barcelona – 570 km

Images courtesy of San Sebastian Tourism
---
---
During their study years, BCC students will have access to the BCC Student APP. Through this APP students will be informed about grants and scholarships, job opportunities, extracurricular learning opportunities, events, invitations to exclusive Master Classes... They will also be informed on student discounts, BCC Cafeteria or Restaurant reservations, transportation, etc.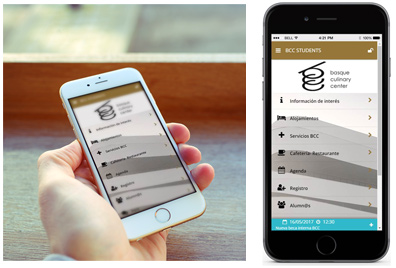 ---